Recognizing and Celebrating Minnesota's Best of the Best!!!

2022 MN Local Chapter Best Service and Support Analyst of the Year Winner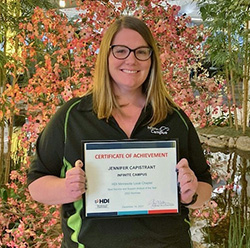 Jennifer Capistrant - Infinite Campus
Background:
Jenny joined Infinite Campus in Dec of 2013. As a Support Advisor at Infinite Campus, Jenny Capistrant assists customers with questions, requests and troubleshooting problems related to the software, specializing in scheduling, transcripts and academic planning. She also has the role of documenting both internal processes and advanced troubleshooting tips while working with other departments to better understand their process and policies, which ultimately benefits the customers. Jenny has been in a customer service world since she was 11 years old, where she had her very first job bussing tables at a local restaurant. Since then all her jobs have been around customer service, whether it was retail, sales or being a Support Advisor. When Jenny is not helping customers, she enjoys spending time with her family, reading and traveling.
When asked to explain why they were being nominated, their nominator said:
We had an anonymous survey for the team to choose who they felt was most deserving of this award. They nominated Jenny. Jenny embodies the qualities of an ideal Support Advisor. She has the ability to work on a large number of cases on a given day and still find time to stop at the drop of a hat to help her peers or a customer.
We send a customer satisfaction survey to our customers for all closed cases. Jenny receives very high ratings. Here are a few customer comments from Jenny's surveys:
"Jennifer was absolutely amazing. I truly wish I could just select her every time I have a support issue from a drop- down menu. Patience and knowledge are a wicked combination of awesome."
"One of the best I have ever dealt with. Patience and understanding were top notch. She valued and understood the input of my support staff and myself. I wish we could talk to Jennifer every time."
"Jennifer was very professional while being very personable. She answered my questions while giving me options to solve my setup question."
Fun Info:
Jenny grew up in New Trier, MN and moved to Cannon Falls in the 9th grade. She graduated from Minnesota State University, Mankato.
She loves her job because she loves working with customers and helping them find the best solutions for their goals. 
When she's not working, she enjoys traveling, reading, watching sports, enjoying live music and just being with her family. 
Fun fact:
She LOVES The Office and has watched it way too many times.
2022 MN Local Chapter Best Service and Support Technician of the Year Winner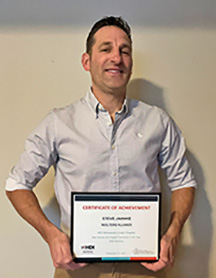 Steve Jahnke - Wolters Kluwer
Background:
Steve serves as a Senior Customer Service Technical Specialist on SupportLine and has been with Wolters Kluwer for 25 years.
Steve rises to the occasion by jumping on early in the morning to help the application support team and takes ownership while collaborating with peers to troubleshoot challenging issues. Known for his efficiency and perfectionism, Steve takes the time to assist and share knowledge with teammates, stepping in when backlogs are full and improving processes like strengthening our support models and providing a better customer experience.
When asked to explain why they were being nominated, their nominator said:
Steve has always been my go-to person for all things technical, including handling challenging customers or new, complex projects. He is always more than willing to take on any new challenges and contribute his technical expertise.
Specifically, with a newer product (CRA Wiz), Steve stepped up to help usher this in within the SupportLine application and technical teams. He learned what was needed to support the product and documented what he learned to bring back to the teams. He also stepped in to support our high-visibility, Tier 1 customers and definitely helped to strengthen those relationships. Steve played a crucial role in helping to solidify our relationship with a Tier 1 customer who had been struggling.
Fun Info:
Steve grew up in a small town called Deer Creek, MN. He graduated cum laude from St. Cloud State University with a degree in Business.
One thing he loves about his job is learning something new every day and the satisfaction of helping people solve their problems. At work he has received various STAR awards for exceeding customers and coworkers expectations of service. 
When he's not working he's playing basketball, softball or volleyball with his friends. His parents inspired him and instilled a strong work ethic at a young age.
Fun fact:
He grew up on a family farm and raised cows, pigs and chickens. 
Learn more about HDI Awards and start planning to nominate for 2023!
Each year, HDI honors the very best in the technical support and service management profession, recognizing the individuals who have achieved and maintained the highest standards of quality and customer satisfaction. Every National award finalist gets one free pass to attend the award ceremony, hosted at SupportWorld Live in the spring.
This prestigious awards adventure for your superstar(s) begins with YOU!  You simply submit a written nomination form allowing you to "brag" about your best of the best in the following areas: service excellence, teamwork, motivation and technical aptitude.  Your HDI Minnesota Local Chapter Board takes it from there including conducting a short 15-20 minutes (Zoom) interview with your nominee(s), handling the judging process, and hosting a celebratory event to recognize ALL nominees for the Minnesota Local Chapter and, of course, to announce the winners for each award.  Local Chapter winners will then advance to compete with other winners from other Local Chapters within our District, and District winners then become National Finalists. Winners from that final round of competition are announced at HDI's annual SupportWorld Live Conference!
Q: "My whole team rocks and I can't decide on who to nominate?"
A:  NO PROBLEM!  There is no limit on how many people you can nominate!
Q: "I, nor is my company, currently an HDI Member?"
A: NO PROBLEM!  You, your company or the person/people you want to nominate do NOT need to be a current HDI Member to participate in the awards program!
Q: "I am very busy at work and don't have time to nominate someone?"
A:  Yup...we totally get that!  Believe us...we're right there with you.  It's never too early to start thinking about who your Superstars are.
For more information on the HDI Awards Program, please click HERE ! 
2022 MN Local Chapter Best Service and Support Analyst of the Year Nominees
Nicole Britson - Medtronic
Jennifer Capistrant - Infinite Campus
Kari Carlson - Wolters Kluwer
Percy Chism - Medtronic
Josh Freitas - Infinite Campus
Nick Lee - Mayo Clinic
Peter Orvick - Bailiwick
Anibal Perez - Optum
Chris Thibodeaux - Medtronic
Katin Yang - Medtronic
2022 MN Local Chapter Best Service and Support Technician of the Year Nominees
Steve Jahnke - Wolters Kluwer